About Abby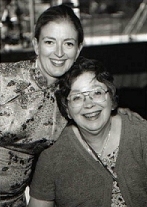 Abby Stokes has taken on the role of the Johnny Appleseed of Technology crisscrossing the country to help Digital Immigrants conquer their fear of technology. Abby has single-handedly helped over 300,000 Digitally Challenged people cross the Digital Divide and get online. She's visited more than 25 states, 180 public libraries, over 175 senior living facilities/computer clubs and has hosted webinars across the country.  She has taught courses in basic computing at both Cooper Union and NYU's School of Lifelong Learning, as well as computer skills to private and corporate clients. A firm believer that "if my mother can learn the computer anyone can," Abby is confident that everyone can master the computer and navigate the Internet. (That's Abby's mom in the photo with her.)
Explore more about Abby's latest book "Is This Thing On?" A Friendly Guide to Everything Digital for Newbies, Technophobes and the Kicking & Screaming by clicking on book overview, book excerpt, or purchase the book.
Abby is also the author of Dinner Party Disasters: True Stories of Culinary Catastrophe and It's Never Too Late to Love a Computer. She splits her time between New York City and Niantic, Connecticut.
Join her at: facebook.com/AskAbbyStokes, twitter.com/abbystokes, youtube.com/AskAbbyStokes, and linkedin.com/abbystokes.