Helpful Links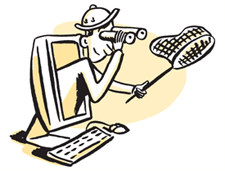 By clicking on the categories below you can access over 100 links to great websites handpicked by me!
Once in the category, read the description on each website and click on the link that tickles your fancy.
Note for first-timers: You'll leave this site when you click on a link. To return either use the back arrow in the top left of your window (example:

) or retype AskAbbyStokes.com in the website address box.
Remember to use the scroll bar!
---
Family
Whether your family is searching for scholarships, in need of help with homework or wanting to write a living will, you can find it on the Internet using the sites listed below.
However, you and your family must remember to use the computer safely. We all need to be aware that there are websites not appropriate for children and, unfortunately, malcontents waiting to take advantage of people on the Internet.
Safe surfing tips for your family:
Don't share personal information over the Internet other than address information when shopping.
Have the kids' computer in a communal area (kitchen, living room, den)—NOT in their bedroom.
Learn more about child safety on the Information Superhighway by visiting safekids.com.
Here are some ergonomic guidelines for you and littler ones:
Check your chair height. Your elbows should be at 90-degree angles. This may mean sitting on a pillow. Be sure to use a footstool to prevent feet from dangling.
The monitor should be at a distance of approximately 2 feet.
Beware of slouching!
Adults take a 10-minute break every 40 minutes. Kids take a break after 20 minutes.
Parenting.ivillage.com – This site starts with tips on pregnancy, baby names, and continues the good advice all the way through your child's teen years.
BrainPop.com – A spectacular site designed to inform kids on art, music, technology, science, health, English, math, and more. Its also a great resource for teachers and parents.
Family.com – An informative and friendly site, owned by Disney, for new families and the more practiced. They offer great advice on activities, travel, health, and much more.
Fastweb.com – A helpful site for the college-bound to find scholarships. A fairly lengthy questionnaire is used to target specific scholarships, but it is well worth the time it takes to fill out.
Ancestry.com – A terrific resource for tracking family genealogy. There are plenty of free links for your use – don't feel any obligation to click through to the sites that require a fee.
Careguide.com – An outstanding resource for guidance on the best health and care decisions. This site also addresses topical and financial issues.
Legaldocs.com – A comprehensive offering of legal documents for free or at reduced rates. With some documents you simply fill in the blanks and print.
Tvguide.com – This site has all that TV Guide offers on the newsstand, along with some additional Internet-only features.
---
Finance
Whether you want to learn more about mutual funds, pay your bills online or gather sound financial advice, the Internet is spilling over with websites that will meet your needs. My only words of advice (that a wise student passed onto me) "You want to make interest, not pay interest!" With that in mind, visit the sites below and prosper.
Irs.gov – Who would believe that the IRS has a fun and informative website? I guess our tax dollars haven't gone to waste!
Bankrate.com – Here you can check and compare bank rates nationally on everything from credit cards, to mortgages, to ATMS.
LowerMyBills.com – A good website to investigate debt consolidation, lowering your monthly bills, and find discounts on utilities.
Bloomberg.com – A reliable resource for financial news and stock advice. The "Market Monitor" feature, in "Investment Tools," lets you view the progress of stocks you select.
Kiva.org – This site utilizes the best of the Internet. From the comfort of your home you make a small loan to a worthy entrepreneur across the world. Kiva tracks your loan and gets your investment back to you. It takes so little to make a huge difference.
Ameritrade.com – If you want to buy and sell stocks yourself online, signing up and performing transactions is pretty straightforward with this site.
Morningstar.com – A comprehensive website for investment information. Their analysts do a thorough job and present their findings in an understandable format.
---
Food
Have you ever ended up with leftover ingredients and don't know what to make with them? Awhile back I hosted a dinner party and was left with extra buttermilk in my fridge. (You guessed it – the entree was leg of lamb.) I hated to see it go to waste, so I searched the Internet. There I found a handful of delicious recipes using buttermilk. Ever since, buttermilk has been my barometer for a website's recipe list. The websites listed here have all passed the "buttermilk test" and then some.
Epicurious.com – Bon Apetit and Gourmet contribute recipes to this fantastic, friendly, and informative site. It also offers very helpful recipe reviews.
Foodnetwork.com – Food Network has done a great job with this well designed, comprehensive site offering cooking tips, recipes, and more from their televised programs.
AmericasTestKitchen.com – From Public Television's most watched show and Cook's Illustrated magazine you can find recipes that have been tested, and tested, and tested, until there are just right. You may need to register to see the recipe you desire, but registration is free.
TopSecretRecipes.com – Have you ever wondered how to make Heinz ketchup or Applebee's key lime pie? Here you can find kitchen-tested, cloned recipes from your favorite restaurants and famous brand-name products.
Whfoods.com – This site promotes the world's healthiest foods. It explains what you should eat, why, and then tells you delicious ways to prepare what is good for you.
Cooking.com – A friendly and well-designed site to purchase all of your cooking and pantry-stocking needs.
MenuPages.com – If you like to eat, but don't like to cook, and you live in Manhattan, be sure to visit this site. Search by neighborhood or cuisine to find a restaurant. Not sure the restaurant is the one for you? View the menu before you go. I only hope they take this site national, so all can benefit.
---
Good Deeds
If you're concerned that the time you spend surfing the net is a waste, think again. Below are websites that offer you the opportunity to help others—sometimes simply with a click of your mouse.
Americorps.org – With this site you can choose from nearly 1,000 national groups that need your assistance. The commitment ranges from 10 months to a year and does offer some payment.
Give.org – Brought to you by the Better Business Bureau, this site is an incredible resource to make educated donation decisions.
Hungersite.com – Visitors to this site can donate food, help save the rainforest, raise money for breast cancer research, along with several other worthy organizations. The sponsors (a.k.a. advertisers) on the site make a donation every time you click on "Donate" in the hope that you might visit their sites. It costs you nothing but a few mouse clicks to make a difference.
ServiceLeader.org – If you're interested in volunteering your time to a worthwhile cause without leaving home and while online, this site is perfect for you. Click on "Virtual Volunteering."
CharityWatch.org – The American Institute of Philanthropy created this website to assist generous folks in making informed giving decisions.
FeedingAmerica.org – The focus of this site is to stop hunger in the Unites States through a network of food banks.
VolunteerMatch.org – Another great site that helps you find where to volunteer in your area or online.
Unicefusa.org – Here you can help Unicef any day of the week – not just when trick-or-treaters stop by!
MakeItRightnola.org – This website is dedicated to helping the victims of Hurricane Katrina get their lives and homes back. You'll find the architects designs and some of the other projects going on inspiring.
TheGreatestSilence.org – A documentary was made by the same name to expose the atrocities taking place in the Congo against women. Click on "Links" to find our where you can help.
---
Health
Great care should always be taken whenever you're making health-related decisions, but that is especially true on the Internet. You must be sure that your information is from reliable sources. Because anyone can create a website, it means that ill-informed or ill-intended people can offer misleading and dangerous information. Stick to the sites below or others that come recommended for your healthcare research.
Mayoclinic.com – What could be more trusted for information than the Mayo Health Clinic's website? It is really well designed and a great resource to have at your fingertips.
Medscape.com – Medscape offers a comprehensive collection of useful medical information. You must register to access their documents, but there is no cost involved.
WebMD.com – One stop shopping for all your health information. The site has lots of interactive quizzes and calculators that make zeroing in on your health needs fun.
RealAge.com – A wealth of health information. Take the survey to determine your "real age" as opposed to your calendar age. Learn how you can improve your health habits to feel younger and healthier.
Nlm.nih.gov – The United States National Library of Medicine is the world's largest medical library. They also created the Medline health site that you can access from here.
HealthFinder.gov – This site was developed by the U.S. Department of Health and Human Services. Here you can find reliable online publications, websites, and support groups.
Quackwatch.com – Quackwatch is a nonprofit corporation committed to unveiling health-related frauds, myths, fads, and fallacies through this website.
ClinicalTrials.gov – This site maintains information about clinical research studies around the United States. It's fascinating to visit, even if you're not considering involvement in a study.
Drugstore.com – Click on the "Pharmacy" tab and you can compare prescription prices, check drug interactions, and even order you medicine online to be delivered to your home.
---
News
The Internet offers us up-to-the-minute reporting with sources from around the world. Below are some top-notch websites for accurate news, weather, and sports reporting.
Note: Some periodicals may require that you register before you can access their articles in full. Registration is usually free. They ask you to register so they can track how many people visit the site, and how often, for their advertisers. Advertisers are necessary so websites can offer their information to us at no cost.
ThePaperBoy.com – This site links you to nearly every national and international newspaper.
Cnn.com – A gold standard news site that also provides informative weather and travel information.
Npr.org – NPR's website offers top notch news and current cultural issues.
Weather.com – Here you can get the 10-day forecast for anywhere by simply typing the zip code.
DrudgeReport.com – This no frills news resource has a reputation for no-holds barred reporting. It offers up-to-the-minute news and a thorough list of news links.
Salon.com – Salon offers criticism and commentary on news, technology, politics, and all things cultural.
Espn.com – This sports site is chock-a-block with the latest stats, scores and sports celebrities, included is an index that features everything from baseball to horseback riding.
SportingNews.com – Along with sports news, this site is designed for easy searches of individual team information.
WorldBank.org – An extensive site that offers a worldwide view of economic news and the fight against poverty.
---
Research Tools
What we have always accepted as limitations in accessing information no longer exist. Now, online, you can track down long lost friends, research anything you heart desires, and even find out what information is out there about you! Big Brother may be watching, but try some of the sites below and at least now you can see what he sees.
What is a search engine? A search engine is a website where you can search for information on a given topic. There are many search engines on the Internet. Because each search engine has its own set of resources you may find different information on different search engines.
Google.com – Google has risen to the top of the pile of search engines. Whatever you want to find on the Internet, Google is good place to start.
RefDesk.com – You can thank my mom for telling me about this incredible website. If there is only one research site you use, this is the one.
Switchboard.com – Looking for someone's address and phone number? This is the first place I go to find a number and I usually don't need to look any farther.
ReversePhoneDirectory.com – This site identifies a name and address from a phone number. Be sure to try each of the links for the name – one may have the information when the other doesn't.
Wikipedia.com – Though a little unorthodox as a resource, since you and I can add encyclopedia entries, it remains a wealth of information on any topic you can imagine.
Usps.com – No matter how speedy the Internet, "snail mail" is here to stay. Visit the U.S. Postal site to find a zip code, postal rates, or hold your mail while away.
Si.edu – The Smithsonian Institute's website is a beautifully designed resource for all ages.
www.usno.navy.mil (You need the w's.) – The U.S. Naval Observatory, not surprisingly, offers great information on all things astronomical and beyond.
Loc.gov – The Library of Congress website is a great resource for students and history buffs. The design of the site is wonderful and easy to navigate.
Cia.gov – The Central Intelligence Agency has designed an informative website with a nice section for kids.
Historynet.com – The world's largest publisher of history magazines, the Weider History Group, designed this site lush with historical information.
---
Seniors
Perhaps you were the first on your block to get online. Or, maybe you were badgered into finally getting a computer. In either case, there is no denying that Internet-surfing seniors are a force to be reckoned with. Below are sites that acknowledge your numbers on the Internet by being designed specifically for folks over 50.
Aarp.org – One of the best-organized and most informative websites on the Internet for seniors. You name it and they've got it.
Ssa.gov – This is the official site of the Social Security Administration. Here you can access a long list of government website links, as well as apply for your Social Security benefits online.
GrandmaBetty.com – Betty Fox, a grandmother herself, started this charming and informative site. Maybe it will inspire you to create a website!
RoadScholar.org – A great organization that provides educational and exciting travel opportunities for people 55 and older. I know many people who've traveled with them and really enjoyed it.
Nsclc.org – The National Senior Citizens Law Center website provides comprehensive information about your rights, current hot news topics effecting seniors, and an outstanding list of links.
Seniors.gov – This site is maintained by the Social Security Administration and offers information on consumer protection, vital statistics, and much more.
ThirdAge.com – A wide-ranging site that covers health, horoscopes, computers, travel, beauty, love, and money. (What more could you ask?)
---
Shopping
Students often voice their concerns to me about shopping on the Internet. If you choose to shop online (and you have every right to decide not to), be smart and use the same precautions you would when giving anyone confidential information.
Shopping Tips:
Always check the return and refund policy before you commit to a purchase. If you want, you can check with the Better Business Bureau (bbbonline.org) to check for past complaints about a company.
Remember to print out the confirmation of your order.
I haven't listed many individual online stores, because I bet you can find them yourself. (Clue: Where would you go for The Gap? You guessed it: gap.com.)
ConsumerReports.org – Consumer Reports magazine has created a great resource for consumers with free highlights from their magazine. A monthly or annual fee is required to use their search feature. (They offer a discount for magazine subscribers.)
CouponCabin.com – If you are a coupon clipper, this is the website for you.
DealCatcher.com – This website informs you on great deals and lets you compare prices.
Ebay.com – The mother of all auction websites. Whether it is a Bart Simpson key chain or a Louis XIV chair, you can find it, sell it, and buy it here.
MySimon.com – Simon is your personal shopping assistant. Just type in what you're looking to buy and he'll lead you to sites where you can compare prices and make your purchase.
Shopping.com – Another site where you type in what you seek and the site will allow you to compare prices and lead you where to shop.
CakesnShapes.com – Want a special dessert for a birthday party of otherwise? Upload a favorite photo to this site. Next thing you know you'll have a delicious cake or adorable cookies, displaying that same image, shipped to your home.
Fraud.org – National Consumers League's Internet Fraud Watch is a very helpful website with information on telemarketing, Internet, and business scams. There is a specific link to "Scam Against the Elderly."
---
Travel
When searching for travel information on the Internet it's important to be specific. Have your dates and locations in mind. Otherwise, the volume of information may be overwhelming. If you don't know a website address, give it a guess. For example, Fodor's travel guides can be found at fodors.com and American Airlines' website is aa.com.
RoadFood.com – This one-of-a-kind web site reviews some of the most memorable eateries along the highways and back roads of America.
Mapquest.com – Here you can get detailed driving directions from your house to anywhere in the U.S. along with maps, travel guides, and traffic reports.
TripSpot.com – This website offers a comprehensive list of links to all kinds of travel deals, ideas, and tips.
Expedia.com – An easy-to-use site to search for hotels, car rentals, and/or purchase airline tickets and travel packages.
Hotels.com – This site is incredible for finding lodging based on your specific desires.
HotelDiscount.com – A great website to find hotels by location or name and compare rates.
BigIslandBliss.com – Visit this site to see an example of a website where you can see the accommodations offered and make a reservation. Not a bad place to visit in real life too!
TravelPets.com – A directory of pet-friendly hotels and other helpful pet resources.
FlightArrivals.com – A fantastic site to track arrivals and departures of all commercial flights in the U.S. and Canada.
Bnm.com – This website includes car rental information for 155 airports and over 100 car rental companies.
Cdc.gov/travel – The Center For Disease Control has designed a great Internet resource for travelers including safety, health and vaccination information.