OMG! I have 300 friends…on Facebook
Thanks to reader Roger Smith (a.k.a. Happy Hippie) I have now topped 300 friends on Facebook. Before we review my blooming online social life, let's address two obvious questions.
What does OMG mean? And, what is Facebook?
OMG is an acronym used in texting, instant messages, and e-mail that stands for "Oh My God." Visit page 267 in "Is This Thing On?" or peek at the Instant Messaging tutorial on my website (instant-messaging-tutorial#abbrev) to view other abbreviations used when e-mailing and texting.

Facebook is going to require a bit more explaining…get comfortable. As described in my March post, which demystifies Twitter (perhaps worth a re-read: lets-talk-twitter), online social networking isn't that different than socializing in our three-dimensional world. You invite people, or are invited, to discuss what you've been up to, exchange ideas, family photos, whatever comes to mind, but it all happens online, while visiting a website, rather than over afternoon tea in your living room. Facebook is one of the most popular social networking websites with over 300 million users. (300 million. OMG!)
Here's an example of Facebook page: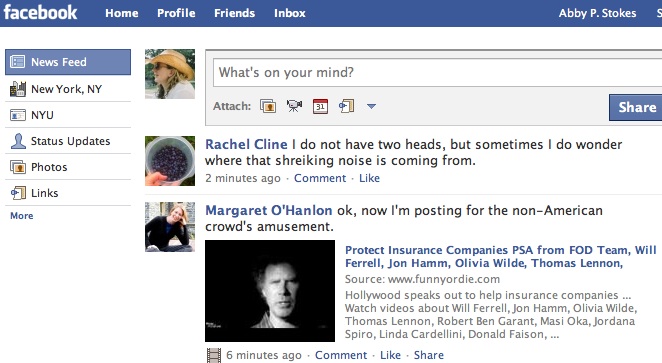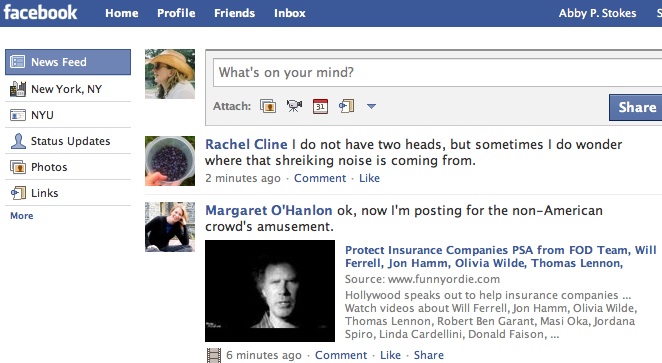 What people post on Facebook runs the gamut from innovative ideas, to great life philosophies, to fun self-expression, to tiresome, over exposure to one's moment-to-moment thought process. Accordingly, you may discover what is posted is truly worthwhile or you may perceive it as a huge waste of time. For me, it's a delicate balance of both.
How Facebook Works
Facebook is free for the cruising…I mean using. You will need to register with the website, www.facebook.com , by filling out a form: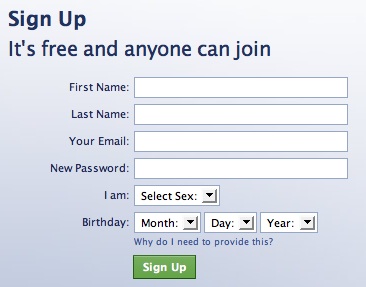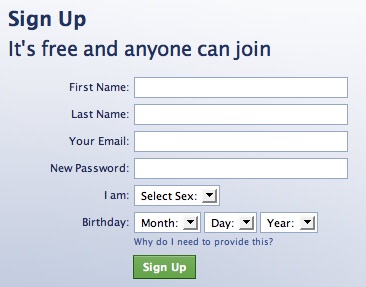 After you've registered, you're given the opportunity to create a "profile." You decide how much information you want to reveal about yourself…birth date, school history, photographs, phone number, interests, etc. You may share as much or as little as you want. I err on the side of cautious and don't reveal my birth date, phone number, or address. Although, if someone is determined to find that information about me, it isn't hard as it is all public information.
Once you're happy with your profile, it's time to start networking. To become someone's Facebook friend an invitation is received via e-mail and an acceptance of that invitation must happen. There is no obligation to say "yes" to someone if you don't want them to follow you. You can search for people on Facebook by their name, e-mail address, work place, or school. I've found people on Facebook I haven't seen since my Old Lyme High School graduation in 1980. Sure, we may never meet face-to-face, but it's fun to catch up on what's been happening in their lives and see pictures of their family, vacations, artwork, etc. You may want to use Facebook exclusively for your family to view photos and stay in touch. It is all up to you.
To Navigate Facebook
Click on each of the items offered in the tool bar which runs across the top of Facebook's site. It's the best way to get a lay of the land.

Home: Brings you to the "wall" where you view the postings of your friends.
Profile: Shows you your profile and your wall. You can edit your profile or post to your wall from here.
Friends: View your existing friends profiles from here or search for friends you want to invite to join you.
Inbox: Any of your friends can see what is on your wall. Your Inbox is where private correspondence is received.


Your Name: Brings you to your wall (the same as Profile).
Settings: Here you can change account and privacy settings. Be sure to take a look at your choices.
Logout: Signs you out of your account.
Search: Type in the name of someone you seek and click the magnifying glass.
Something you must keep in mind…Everything that is posted on Facebook is essentially public – except what you receive in your Inbox. So, assume your employer or wife can see the photos you post. Assume your landlord can read what you post. Do not say or show something that is incriminating or more controversial than you can handle.
I hope that's enough insight into what this thing is called Facebook for you to decide if you want to dabble. Let me know if you have any trouble navigating the website or online social networking in general. Happy to be your wingman.

If you would like to join me on Facebook, click this link: http://www.facebook.com/abbypstokes. I consider us friends either way…