Where Are We Going With Wearables?
Love is in the eye of the beholder and now tech is on the body of the wearer. There are watches, eyeglasses, and rings that transmit information over the Internet and back to your computer or tablet. Smart watches bring the world to your wrist and you to the world. You can text, email, and call from the watch. But that's not all . . . some check your heart rate, tell you if you're on schedule, and let you send a gentle vibration to someone so they know you're thinking of them or sketch a heart to zap to your honey. (I almost forgot, smart watches also tell time!)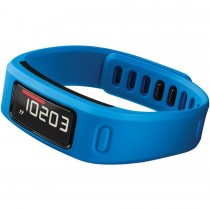 Fitness bands monitor your physical activity, food intake, and sleep. They then share that information with your tablet, smartphone, computer, or your fitness buddy, as well as suggest how you can improve your health based on the data collected. Moving from your wrist to your head, meet OHMD (optical head mounted display). Utilizing voice recognition software, you speak your commands or questions— driving directions, movie start times, how much to tip a barber—and the device will either display or say the answer.
Some wearables wear out their welcome pretty quickly and others reinvent themselves and rise up from the ashes. We'll see if Google Glass can be resurrected. Apple Watch seems to be here to stay and I love mine. But there are so many innovative wearables out there that don't get the same play as others. Let me sing the praises of some under the radar wearables…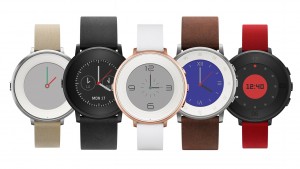 A lesser known smartwatch – Pebble – has continually evolved to meet the needs of its loyal users and just "gets better with time." Pebble Time Round is lighter (28 grams) and slimmer (7.5mm) than any other smart watch out there and maintains a classic watch look while allowing you to see calendar events, text messages, and incoming calls. The impressive battery life is good for two days and you can get a full day of power with a 15-minute plug in. And, if variety is the spice of life, Pebble offers quick-change bands and downloadable watch faces along with various colors, band sizes, and styles. Pebble Time Round follows Pebble Time Steel (at the same price of $249.99) and can be reserved now for shipment in November 2015.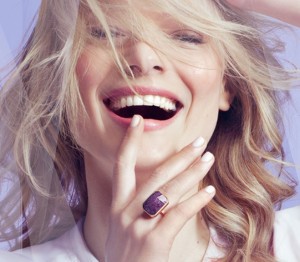 There are engagement rings and then there are rings that engage. Ringly allows you to stay connected while you remain completely engaged with what's happening right in front of you. Through four customized vibration patterns, colors, and light Ringly alerts you to what you deem important. Download the app, connect your ring, and decide what you want to be notified about. Receive a reminder of your next meeting. Know when that special someone has texted you. Don't miss Mom's call. Ringly is integrated with over 50 applications, ranging from eBay and Facebook to Uber and Instagram. What ups the ante is how gorgeous these rings are with hand-cut precious and semi-precious gemstones (14x19mm) featuring 18K matte or rhodium-toned plating ranging in price from $195 to $260. If that isn't enough for you to say "I do" the ring box acts as a charging station. You simply place the ring in the box to recharge when the battery is low. A smart ring indeed.
Hang on. I'll be back in a minute…or five. I've got to detangle my ear buds before I go on. #$%!:@!! I've tried bowline knots and twist ties to no avail. There's got to be a better way to harness my stringy ear buds. There is.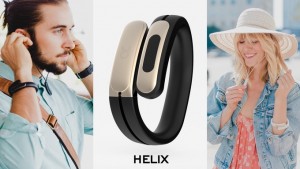 Helix, designed by Ashley Chloe, has come to the rescue with the first bluetooth headphones that you wear on your wrist. The attractive cuff that houses the wireless ear buds comes in six choices of color including white, black, silver and the Gold Edition in bright red with 18K plated-gold details and range in price from $169 to $299. Helix uses Bluetooth technology so it's compatible with iOS, Android, or any device that supports a connection to wireless headphones. The Helix only offers three hours of play time, due to its small size, with 200 hours of standby time. But a full charge can happen in less than an hour. Having exceeded their Kickstarter goal Helix is expected to start shipping in December 2015.
What about something you can wear to discreetly carry all your tech toys? My all-time favorite manufacturer of clothing to house your electronics is Scottevest. The women's trench coat boasts 18 pockets to house everything from your cellphone to your tablet to your water bottle to a collar that integrates your headset. The men's vest boasts 26 pockets!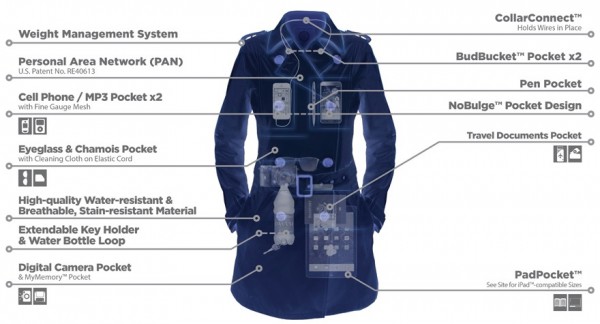 Even more impressive, innovative, and discreet wearables are just around the corner. At June 2015's Fashion Tech Forum Paul Dillinger, vice president of innovation at Levis Strauss & Co, and Ivan Poupyrev, technical program lead at Google's Advanced Technology and Products (ATAP) group, announced a collaboration that truly integrates technology into your clothing. Project Jacquard is a conductive yarn that will be weaved into your jeans or jacket to enable touch and gesture control so you can turn on and off the lights or activate you phone – allowing you to make an intended pocket call. The conductive yarn is thin, natural, and designed to be used on industrial weaving machines all over the world. It's left up to fashion designers to decide if they imbed the yarn invisibly or make its presence an asset to the garment. For a select few there will be a soft launch in spring 2016 with plans to hit stores fall 2016.
(Click on the product links to read more or make a purchase.)